Introducing Peers Inc.: Robin Chase at TEDGlobal2012
See on Scoop.it – Things I grab here and there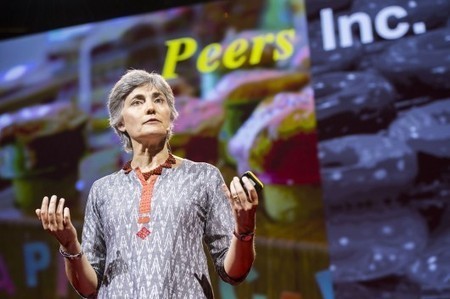 "12 years ago I cofounded Zipcar," says Robin Chase. "Zipcar buys cars and parks them through dense metropolitan areas for people to use by the hour or day instead of owning their own cars." Each Zipcar replaced 17 personal cars and caused drivers to drive 80% less.
But Chase isn't here to wax nostalgic. She's here to tell us it's time to push the envelope. So two years ago, she moved to Paris to set up another kind of transportation system: Buzzcar. In this system, people rent their own cars to friends and neighbors. Some people describe this as "peer to peer," but it's a phrase that Chase thinks fails to capture the essence of humanity at its core.
Instead, she'd like to discuss Peers Incorporated, a system and way of thinking that can benefit both corporations and individuals. As she puts it, these two "deliver the best of both worlds," and she has some examples: Ten-year old carpooling.com has 3.5 million members and 1 million people using the service every month. "It's the equivalent of 2,500 TGV trains without laying a track or building a train," she says.
See on blog.ted.com