Collective Intelligence: Ants colony solving TSP – CodeProject
See on Scoop.it – Things I grab here and there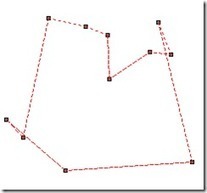 According to wikipedia: "Collective intelligence is a shared or group intelligence that emerges from the collaboration and competition of many individuals and appears in consensus decision making in bacteria, animals, humans and computer networks".
The algorithms based on collective intelligence have some "interesting" properties:

decentralization
parallelism
flexibility, adaptability
"robustness" (failures)
auto-organization

These algorithms are inspired by the nature. Here are some examples of collective intelligence which can be observed in the nature:

The swallows settle on wires before they are taking of for the next destination. There is no leader in the group. The decision whether to take of is taken collectively. The probability for the swallow to take of is getting higher when there are more swallows in the air. If the other swallows do not join, the swallow will again settle down on the wire. At one point the number of the swallows in the air reaches the "break-point" when all the swallows decide to take of.
The bees perform a special "dance" to show their peers where the foot-source is. This dance gives the information about the angle of the food source position with respect to the sun. All the bees do perform the dance when coming back in, which makes the "algorithm" adaptive.
When the ant founds food, he lays down a "positive pheromone" on his way back. This pheromone evaporates during the time. The other ants sniff for this pheromone when choosing their route and prefer to go in places where the concentration of the pheromone is higher. The shorter the path to the food source is, more pheromone stays on the track before it evaporates. The more pheromone there is, more ants take this path. When there is a obstacle in the route – the algorithm adapts easily to knew situation. Again the shortest route to evict the obstacle is chosen in the shortest time.
See on www.codeproject.com