Goofing Off On The Job And Loving It
See on Scoop.it – Things I Grab (Here and There): THgsIGrbHT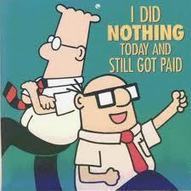 plerudulier's insight:
'Low performers often end up with the easiest jobs because managers don't ask much of them,' he said, so they're under less stress and they're more satisfied with their daily work lives.
Meanwhile, dedicated and conscientious workers end up staying at the office late, correcting the work of the low performers, and making sure clients or customers are satisfied. This pattern breeds frustration and disengagement in the high performers—and perhaps ultimately drives them to seek work elsewhere. 'They feel stressed and undervalued, and it starts to undermine the high performers' confidence that the organization is a meritocracy,' said Mr. Murphy.
See on elearningfeeds.com