Better office design may not be just about open space.
See on Scoop.it – Things I Grab (Here and There): THgsIGrbHT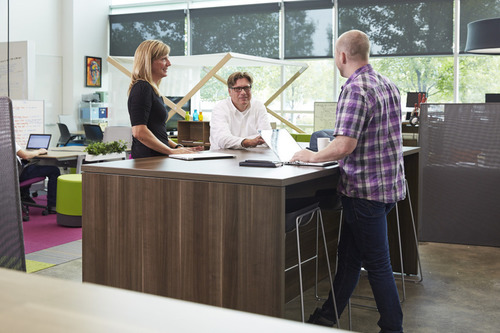 With careful planning of open space and private zones, you hit the sweet spot of enviable office culture and inspiring productivity.
plerudulier's insight:
Curtained conference rooms and three-piece suits have morphed into gray hoodies and rumble seats, and the mysterious schedules of senior executives have been unveiled by the new norm of working out in the open.
In an open office, we've eliminated the corner office, packed up the cubicles, and unhinged all forms of separation between task areas, all in the name of collaboration and team building.
But is office design really a one-size-fits-all project? Can we build better office culture by tearing down walls? And on the other hand, can we create a better environment by giving everyone their own private workspace?
Read more at http://venturebeat.com/2013/09/07/better-office-design-isnt-just-about-open-space-heres-a-new-theory/#CzGPFZIiRrqY5O5E.99
See on venturebeat.com