The Sharing Economy Fights Back Against Regulators
See on Scoop.it – Things I Grab (Here and There): THgsIGrbHT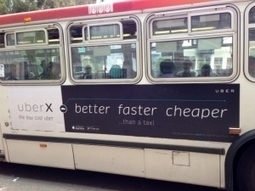 (photo credit: Tarun Wadhwa) A San Francisco Muni bus displays an advertisement for Uber's new service. The "sharing economy" has become a source of income for some, and a source of tension for others.
plerudulier's insight:
The growth of the "sharing economy," a loosely defined term generally referring to the internet-enabled peer-to-peer exchanges of goods, has brought with it a shift in the way we think about consumption. Its rise, exemplified by AirBnb, has been fast, and loud. What started with a few enterprising individuals willing to let complete strangers sleep in their homes and use their possessions has now developed into a formidable economic force that threatens to upend several different industries.
Tarun WadhwaContributor
Along the way, it has posed some major legal challenges. The companies that are pushing it forward have continually undermined local ordinances, consumer safeguards, and protectionist regulations alike. As a result, governments around the country are trying to rein them in.
See on www.forbes.com