Get a life
See on Scoop.it – Things I Grab (Here and There): THgsIGrbHT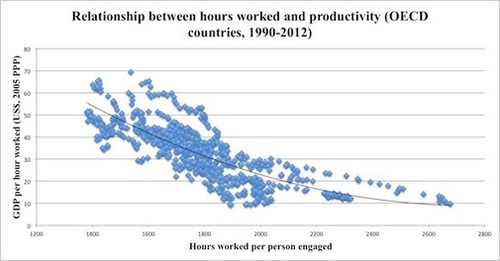 BERTRAND RUSSELL, the English philosopher, was not a fan of work. In his 1932 essay, "In Praise of Idleness", he reckoned that if society were better managed the…
plerudulier's insight:
The Greeks are some of the most hardworking in the OECD, putting in over 2,000 hours a year on average. Germans, on the other hand, are comparative slackers, working about 1,400 hours each year. But German productivity is about 70% higher.
One important question concerns whether appetite for work actually diminishes as people earn more. There are countervailing effects. On the one hand, a higher wage raises the opportunity cost of leisure time and should lead people to work more. On the other hand, a higher income should lead a worker to consume more of the stuff he or she enjoys, which presumably includes leisure.
Some research shows that higher pay does not, on net, lead workers to do more. Rather, they may work less.
See on www.economist.com