Solspaces project to test year-round solar heating system
See on Scoop.it – Things I Grab (Here and There): THgsIGrbHT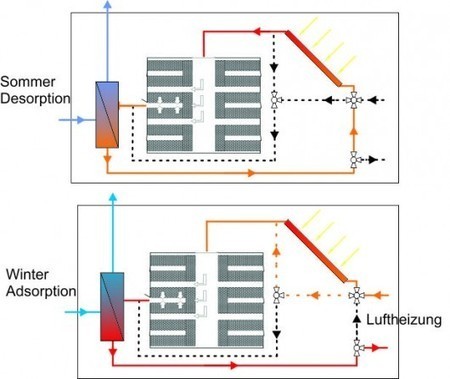 Researchers at the University of Stuttgart are preparing to test a solar heating system capable of long term storage as part of "Solspaces," a three-year project that kicked off in March 2012.
plerudulier's insight:
During winter, the zeolite acts as a sorbent, adsorbing humidity from the moist air flowing through the reservoir. The binding of the water vapor with the sorbent produces heat energy, which is used to heat the building.
In the summer months, the process is reversed with solar cells heating the air flowing through the reservoir to 180° C (356° F). This desorbs the water molecules, allowing the sorbent to dry out and be ready to store heat once again. The team says this process has the potential to almost entirely eliminate heat loss as it doesn't require water in the tank to be maintained at a high temperature year-round.
See on www.gizmag.com